Why Us

We  have a pragmatic and genuine approach that you're going to love. Seriously! For us, it's about real conversations, clever ideas and honest-to-goodness relationships. Yes, we're small, but don't let our size fool you. With over 20 years of combined experience, we know what it takes to deliver big.
Genuine
Direct + personal service

Pragmatic approach

Goal oriented solutions
Your new best friends 
Talented
20+ years experience
Big business background
Versatile skills – strategy to design
Big results with small budgets 
Flexible
We fit in where you need us
Project-by-project basis
Extension of your team
Your marketing department 
What our clients say
"As a family owned company we strive to treat all our customers as part of our family. It was incredibly refreshing to have a company treat us the same way! We have had and continue to have a great experience working with Frank & Gen. They are an intelligent, innovative and hardworking group of people. Any task we have thrown at them, they have exceeded our expectations with flying colours. We would strongly recommend Frank & Gen to anyone looking for a no hassle marketing company."

- Jerred Wagner, Co-owner | NW Roofing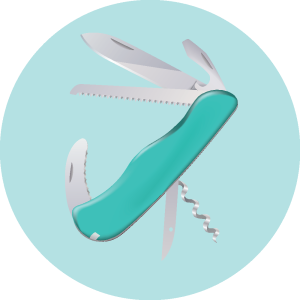 Your multi-talented team.
Go team! We shine in a collaborative environment. We'd love to brainstorm with your marketing department, work with your sales team and operate as an extension of your business.
Ready to chat? Get in touch!